Instagram releases 3 new features to support small businesses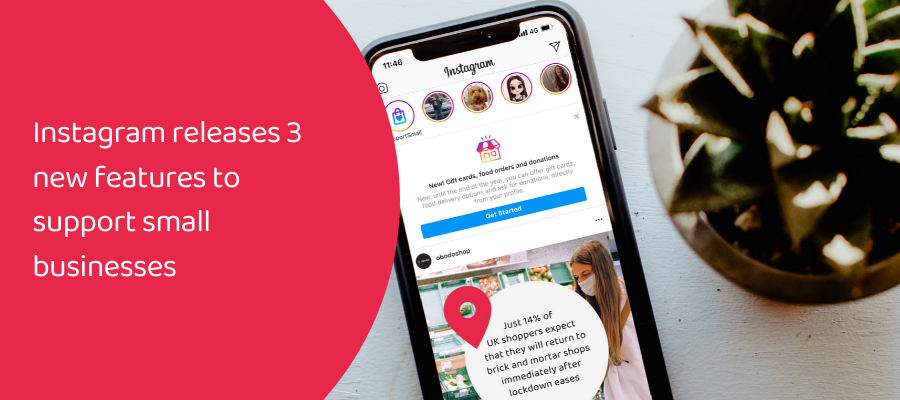 Supporting small businesses has always been important, but thanks to Instagram it just got a little easier. The social media giant recently released three new features aimed at helping small businesses be seen in the COVID-19 era.
You've likely seen the 'Support Small Business' sticker if you're a frequent Instagram user, but you may not know about the new 'Gift Cards' and 'Food Orders' stickers. The first seems to be available in most (if not all) countries, however, the gift cards and food orders features are, at the time of publishing, only available in the US and Canada. Luckily, Instagram has announced that they plan to roll these features out on a global scale within the coming weeks. Some UK users are already able to see these features, so keep an eye out.
Below I'm going to briefly summarise each new feature and cover how it can be used to benefit your business or support the businesses you love.
Support Small Business
Instagram's new 'Support Small Business' sticker can be found in Stories. When users add this sticker to their story, they can choose a profile to mention. By default, the three most recent images on that page's feed will be featured in the sticker, but by tapping the sticker they will disappear.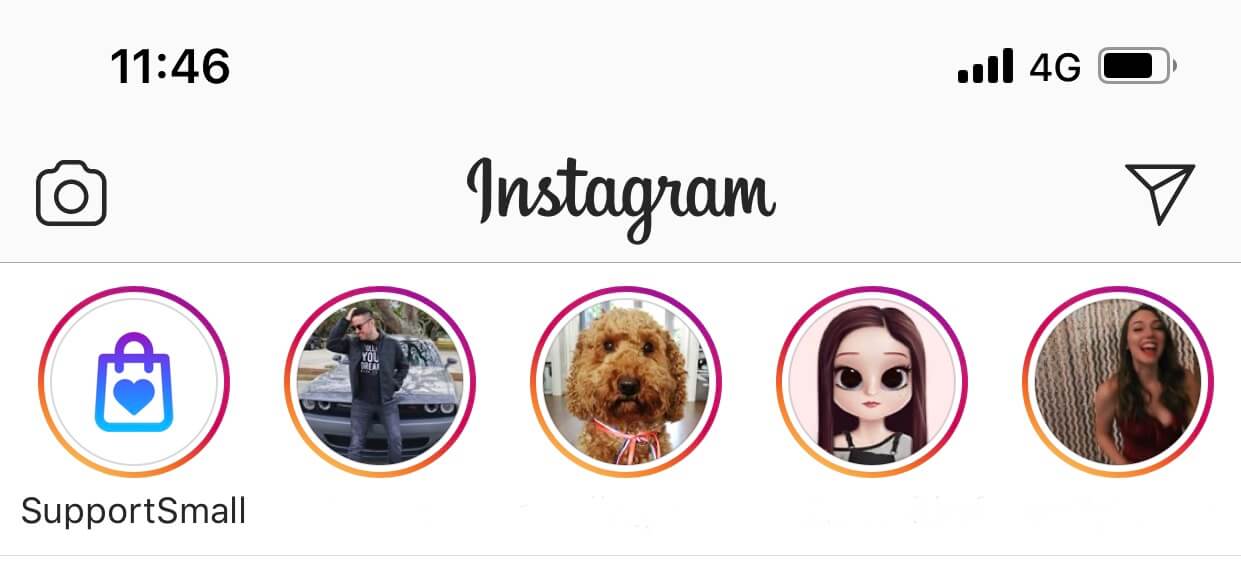 This sticker can be used to promote your own business or to give a shoutout to some of your favourite small businesses. As stories are created with this sticker, they will be added to a shared story that can be viewed by anyone that follows the poster. This creates great free exposure. I recommend posting to support some of your favourite small businesses, they just might return the favour and post about you to their own follower base!
Gift Cards
Offering gift cards or vouchers for your business is a great strategy to bring in money. If your business is currently unable to open due to COVID-19, your customers can shop their support for your business by purchasing gift cards to use when your shop reopens.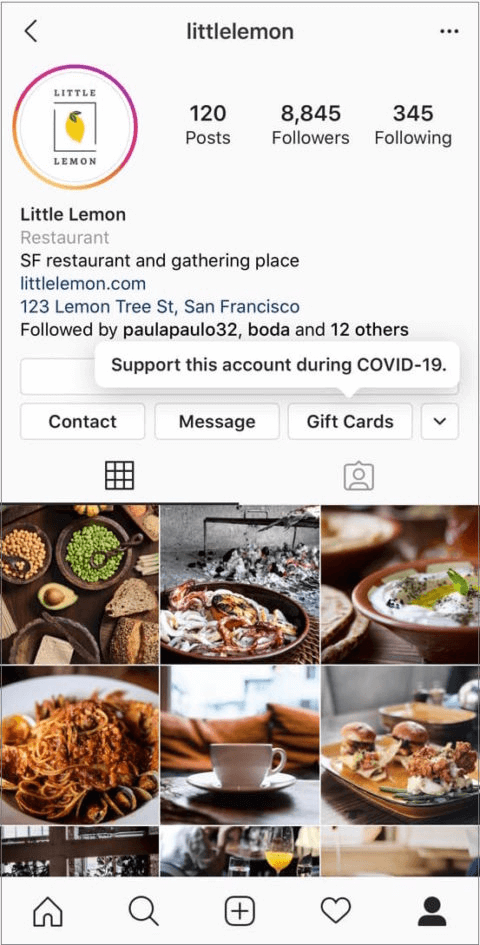 Thanks to Instagram's new feature, you can create a button directly from your shop's Instagram page that links directly to a partner website like Gift Up!, LoyLap, Rise.ai or SumUp. These sites will process your customer's payment and issue a gift card for your shop. Before you can set up this feature you will need to first create an account with the partner of your choice. Keep in mind that these partners will take a percentage of your profits. For more information on how to set up the Gift Cards feature, visit Instagram's Help Center.
Once this feature has been set up, you'll have a Gift Cards button added to your profile and you'll also be able to use the 'Gift Cards' sticker on Stories.
It is worth noting that selling gift cards through Instagram's partners is not the only way to sell and promote gift cards. If you have your own website, you could instead create an item for gift vouchers on your online shop. Once you've created this in your online shop you can easily share a link to purchase them directly from your website. This may be more cost-effective and will also give the buyer a chance to view the items you sell and become familiar with your website.
Order Food
Online ordering and home delivery have become massively popular during the coronavirus lockdown. Most consumers are following the 'Stay at Home' advice and are more likely to order delivery from restaurants than ever before.
Instagram has jumped on this bandwagon and introduced the new 'Order Food' feature for business profiles and Stories. Businesses with this enabled can link directly to a delivery partner, enabling customers to easily leave the Instagram app and begin a new order with only one click.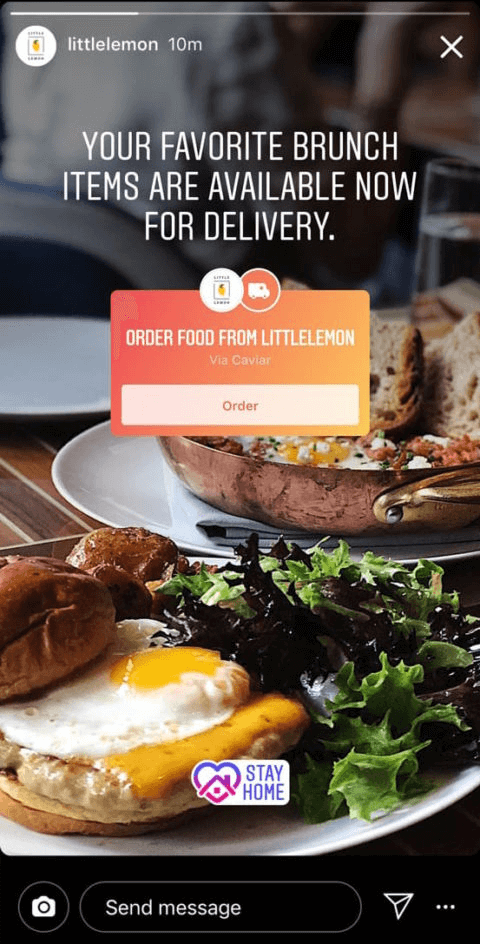 In order to use this feature you will need to have already set up a merchant profile with one of Instagram's delivery partners. Depending on your area, these may be different but the most common are UberEats and Deliveroo.
While this is a very useful feature for takeaways and restaurants offering home delivery (and even takeaway!) it is important to remember that these delivery partners generally charge high fees for using their services. Instead, you might consider setting up an Obodo shop for your restaurant. Obodo charges only 3.9% +20p per transaction in comparison to the 14% charged by other delivery platforms.
Bonus: Facebook Businesses Nearby
Facebook (who own Instagram) will also be launching a new feature for small business owners and supporters. The feature will be called 'Businesses Nearby,' which will allow users to set a geographic radius between 1 to 500 miles and see the latest posts and updates from businesses within their local area.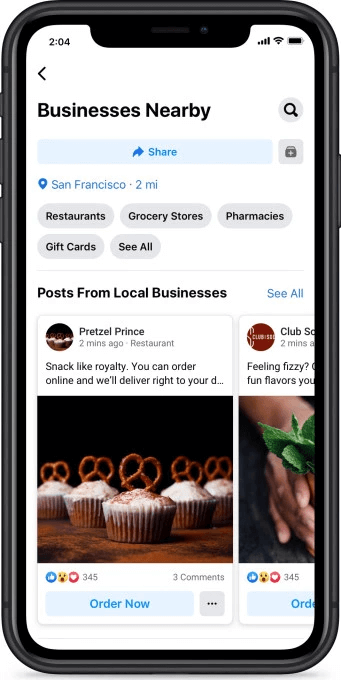 Once this feature is live, it will be a great opportunity for businesses to be seen by customers in their local area, especially businesses who are able to offer home delivery services.
If you're looking for a free way to take your local business online, visit obodo.shop to learn more.
---
---