How to set up online orders for my Restaurant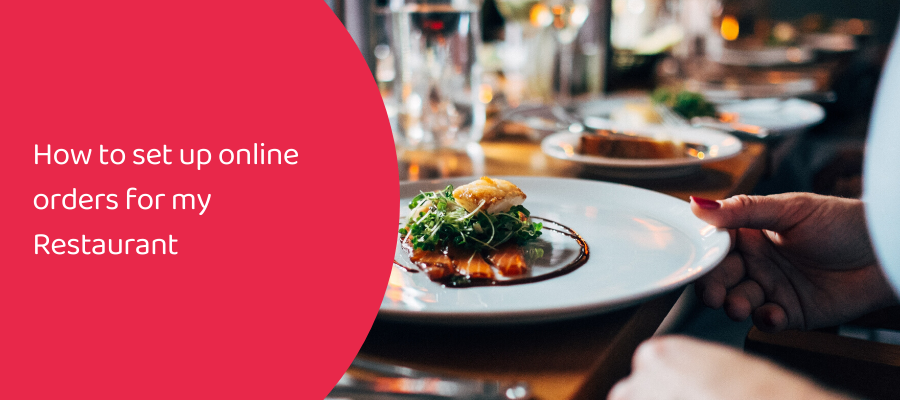 When looking to set up online orders for your restaurant, there are a few options available to you, including services like Just Eat, Deliveroo and Uber Eats to name a few. And you may already have one of these options set up for your restaurant but if you're looking to set up your own online ordering service as an alternative then you need to be looking at setting up your own website.
While there are many benefits to using online ordering services there are also downsides as well, including paying commissions on every order you take (in some cases this can be as high as 14% (excluding VAT) on Just Eat) as well as a one off joining fee for most services that can add up to a couple of hundred pounds.
So, if you're looking to take control of your restaurant's online ordering, setting up your own website is a good choice. However, how do you make sure your website not only has all the capabilities you need but also reflects your branding and values? We'll be going through the steps to setting up online orders for your restaurant using Obodo's free online shop service.
Getting set up
Register for an Obodo online shop
You'll first need to register for a free Obodo online shop and enter all the relevant information required as well as choosing a domain name for your online shop if you don't have one already. Once you're set up, you'll have access to your shop's dashboard as well as other settings you can explore.
There will be a set of onboarding tasks ready to help you get your new online shop set up correctly so we recommend following these steps first in order to get set up straight away.
Setting up payment details
Before you move onto getting your Obodo shop the way you want it to look, remember to set up your payment details. Stripe is one of the fastest growing payment methods online and includes card and digital wallet payments for your customers convenience. Stripe is fully secure and compliant with PCI, PSD2 and Strong Customer Authentication (SCA) regulations and works perfectly with your Obodo shop.
Once you've set up your Stripe account you'll be able to take payments online and take advantage of their online dashboard, managing your orders and refunds as well as staying in sync with orders on your Obodo shop.
Customising your online shop
Choosing your theme
When it comes to customising your Obodo shop, there are plenty of ways to do so. However, you should start with choosing the theme that best suits your business. There are templates to choose from when using Obodo and some that are specific to restaurants and takeaways. Either way you'll want to make sure to choose a theme that not only showcases your food but is also easy to navigate for the customer.
Setting your theme colours
Once you've chosen your theme you can customise the main colours of the theme to match your restaurant branding by navigating to the 'Design' tab at the top and then selecting the edit button on your homepage theme and then choosing change colours. From here you'll be able to insert your own brand colours under 'Theme Colours' and choose from the RGB or the Hex code to make sure you get the colour just right.
Uploading your logo
You'll also need to upload a file of your restaurant's logo to your site to finish off the branding so it matches with the look and feel of your brick and mortar shop. You can do this by navigating to the 'Shop' tab at the top of the page, choosing 'Edit Design' and 'Upload Logo'. Make sure that the file of your logo that you're uploading is high quality and works with the colour that you chose for the background of your website header.
Alternatively, if you don't already have a logo you can create one using the Obodo Logo Builder which you can find by navigating to 'Design' selecting 'Edit' on your theme and selecting 'Edit Logo'. From here you'll be able to create a new logo.
Adding business information
You'll also need to add all the relevant information needed on your website such as your opening hours, delivery times as well as advice on your delivery radius which we'll cover in the next section. Your customers may also want to know a little more about your business if they're new customers rather than returning customers so adding an 'About Us' section to your site is a must have.
Distance selling and delivery guidance - FSA
If you don't already offer delivery for your restaurant you'll also need to ensure that you're following the Food Standards Agency guidelines on distance selling, mail order and delivery. You need to ensure that you've registered with your local council 28 days prior to opening your business for takeaway and delivery. Food that needs to be delivered should be kept in suitable containers i.e. foods that need refrigeration need to be kept cool and foods that need to be kept hot need to be packed in an insulated container.
There are also legal requirements that need to be met when selling food online for takeaway or delivery - you can read this guidance on the Food Standards Agency website.
Uploading your menu
Uploading your meals
So now you have everything set up the way you want and it reflects the ambiance of your restaurant, but you need to now list your menu on your Obodo shop and you can do this by uploading items as 'products'.
As a restaurant, we'd recommend you upload each meal on its own and include a 'variant' for each of the different options that come with the dish. For example, if you're offering a Chicken Tikka Masala, your variants could be the type of rice included with the dish i.e. pilau rice, white rice or egg fried rice for example.
You'll also want to upload pictures of your meals as well as any sides or drink you offer for your delivery service as this helps your customers visualise the food and choose their options. If you don't already have pictures you could visit free stock image sites such as pexels.com or similar to try and find images that match the look of your food as closely as possible. Flickr is also a good place to source images for your website but make sure to check the licensing options and include any credit where necessary.
Writing your descriptions
While ordering food online is usually visual, customers will want to know more about the food you have on offer. Details like allergy information, ingredients and how it's cooked for example, should all be included in your product descriptions.
You may also want to feature your restaurant's food hygiene rating across your website to provide new customers with reassurance and build trust when ordering food online with you.
Confirm your delivery methods
As Obodo is specifically designed to help businesses deliver to their local area, you'll need to set a radius from your business address which will max out at 15 miles. You can choose from delivery or click and collect, but ensure that whatever option you choose suits your business needs.
Linking your social media
One final step to take is to link your new website to your social media accounts and add the website url to any social media profiles and descriptions. Not only will this help with directing your social media traffic to your website for new orders but it will also help to solidify your brand and have your own little corner of the internet, as well as pointing any customers to your site to order.
Rerouting your online orders to your website
Now you have a brand new site to call your own, you need traffic to that site to get orders - something that platforms like Just Eat are good for is driving traffic to your listing however with the hefty commission fee, you'll be able to avoid that with your own website and will build up enough traffic to not have to rely on those services.
But how can you drive traffic to your new site? Firstly, as we mentioned before, amend all your social media descriptions to include your site's new URL and encourage people to order through your site by promoting its launch on social media. Use tools like Canva to create beautiful graphics for your social media post to help announce to your followers about your new site.
You could also look at offering a discount on orders taken on your website perhaps 10% off rather than the 14% that services like Just Eat would take, you'd still be making more by offering a discount and it would help you drive traffic and get repeat customers to purchase from your website instead. You could also include a promotional flyer in each order to help spread the word of your new site and entice customers to purchase there with the 10% off your next order to celebrate the launch of your site.
We're so excited to have you join the Obodo family! For in-depth guides and links to our ticketed support team, visit https://help.obodo.shop/support/home.
---
---