How to sell on Instagram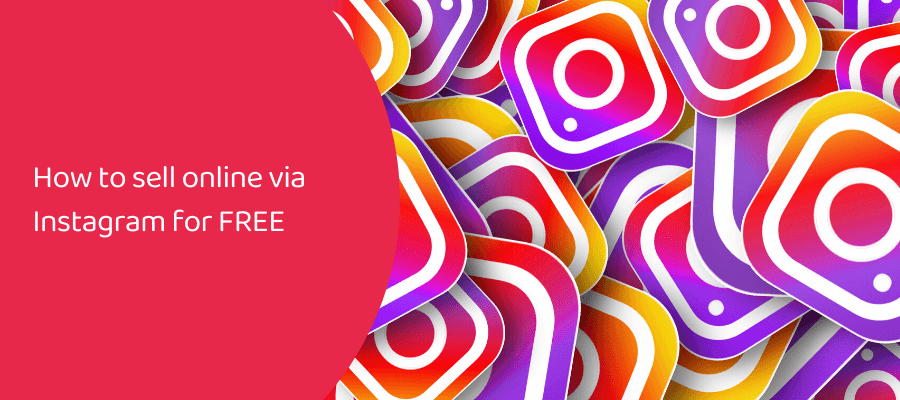 If you're new to Instagram and are considering using it to sell your products, you might not be aware that you can't actually include clickable links within your posts' description. This makes it more difficult to sell on Instagram. However, this doesn't mean you shouldn't, especially with it being one of the biggest social media platforms right now. This blog post will explain how to get set up and selling on Instagram for free.
How to create an Instagram Business account:
Having a business account on Instagram will give you access to business-specific features and Instagram insights that will be super helpful to you and your business.
Head to the app store on your mobile and search for Instagram. Download the app and use an email and password to create an account.
Next to turn this into a business account:
Go to your profile and tap in the upper right corner
Tap settings
Tap account
Tap switch to professional account
Tap business
Add details, like your business category and contact information
Tap done
There are then a few more steps you must complete and consider before applying for Instagram Shoppinglisted below.
Only some countries support the use of Instagrams shopping feature. You can find the full list of approved countries by clicking here.
2. Does your business sell physical goods?
Similar to the Facebook store you can only sell physical products and not services.
3. Does it comply with Instagrams commerce policies?
Certain products are banned from being promoted and sold on Instagram. These include products such as alcohol, animals, gambling, and ingestible supplements. You can find the full list here.
By changing to a business account as mentioned previously you can now add additional information to your Instagram page in comparison to a personal account. This includes opening hours, business address, phone number, and a link to your website.
5. Is your account connected to a Facebook page?
Connecting to a Facebook page will allow you to sync your product catalog. This is where Instagram shopping will direct your customers to view products. They will then either checkout through Facebook or via your online website depending on which one you have set up.
If you want to find out how to set up a checkout flow through your Facebook page you can watch this video or read about it here.
If you believe to have completed the above steps, you can then apply for Instagram Shopping. This will allow you to tag your products with a clickable link allowing users to purchase your products much quicker and easier. This is the best way to include links within your posts as clickable links are not supported within the description.
Other than Instagram shopping here are some more advantages to using Instagram to sell and promote your products.
Advantages to using Instagram
Location Tags
Location tags are key for local businesses as their products have the potential to be found much easier by nearby customers.
Using local hashtags on posts on Instagram has been shown to improve SEO efforts and create more visitor interaction for promotions that are run.
Millennial dominated app
Many Instagram users prefer to be on a mobile device for most, if not all, of their data consumption, which makes an account here easy to access if Millennials are your targeted group.
The importance of images
Instagram allows users to upload 10 images in a single post. Images are becoming more and more important for shoppers to get a true feel for the product. It also allows them to see it from multiple angles and gives the company to demonstrate how it might be used in day to day life.
Disadvantages to using Instagram
With it being primarily a mobile app, it is very rare desktop users will end up on your Instagram page. Depending on your audience you could be missing out on a lot of potential customers.
However, with an Obodo shop, there are over 70 mobile responsive themes to suit any business model. This means that your website automatically adjusts to display as best as possible on whichever device your customer is accessing the website on.
No room for additional Information
The bio only allows for 150 characters. Not giving much room for you to explain your business products.
As mentioned earlier you cannot include clickable links within your posts descriptions. The one place you can include a link is within your bio. This is very limiting, especially if you are wanting to include a CTA (Call To Action) such as visiting your website or checking out on a specific product.
An Obodo shop offers much more freedom. Allowing you to create blank web pages to truly explain your business and even include videos and pictures.
---
---