How to set up online orders for my Butchers Shop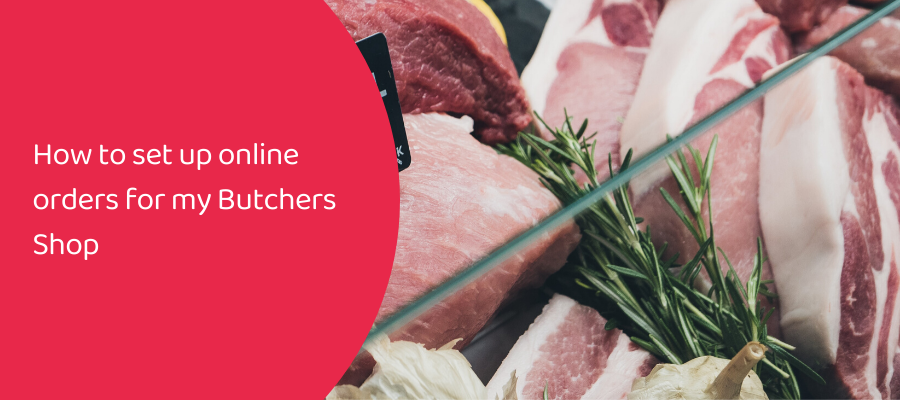 Getting your Butchers shop selling online can seem like a huge task at first but getting your Butchers online is a lot easier than you think. Setting up an Obodo online shop is free and you could be taking orders on your new online shop by the end of the day!
We're going to talk through how to get your Butchers Shop online using Obodo's free service and the steps you'll need to take to start taking orders online. From registering for a shop, getting your domain name and even how to get traffic to your brand new site.
Getting set up
Register for an Obodo online shop
The first thing you need to do is register for a free online shop. With Obodo you can also register for a brand new domain to match your business name free for the first year. Once registered, you'll be prompted to complete a few steps to get you started with your new online shop. This includes adding details such as your address, contact details and more to ensure that you're all set up for receiving online orders.
Setting up payment details
One of the most important parts of your setup will be to sign up for a Stripe account so you can take both card and digital wallet payments on your online shop. Stripe is fully secure and compliant with PCI, PSD2 and Strong Customer Authentication (SCA) regulations and works perfectly with your Obodo shop.
Customer's will be able to checkout on your shop with ease and be able to choose their preferred payment method at checkout. Once you're all set up with your Stripe account you'll be able to manage your Obodo orders, refunds and have access to their dashboard to help you stay on top of your cash flow.
Customising your online shop
Choosing your theme
The next step is to choose a theme that suits the look and feel of your brick and mortar shop. Obodo has lots of options to choose from and some that are specifically tailored to businesses in your industry. All our themes are fully optimised for mobile so your customers' can check out both on desktop and mobile devices.
Setting your theme colours
You'll also want to change the colour of your theme to match your business' branding. You can do this by navigating to the 'Design' tab at the top and then selecting the edit button on your homepage theme and then choosing change colours. From here you'll be able to insert your own brand colours under 'Theme Colours' and choose from the RGB or the Hex code to make sure you get the colour just right.
Uploading your logo
You'll also need to upload your logo to your new online shop as this helps customers recognise your branding. You can do this by heading to the 'Shop' tab at the top of the page, choosing 'Edit Design' and 'Upload Logo'. Or if you don't already have a logo you can create one using the Obodo Logo Builder which you can find by navigating to 'Design' selecting 'Edit' on your theme and selecting 'Edit Logo'. From here you'll be able to create a new logo.
Alternatively, if you don't already have a logo you can create one using the Obodo Logo Builder which you can find by navigating to 'Design' selecting 'Edit' on your theme and selecting 'Edit Logo'. From here you'll be able to create a new logo.
Adding business information
You'll also want to include information specific to your business activities such as your opening hours, delivery times, delivery radius, delivery prices and your food hygiene rating across your website. You'll also want to add an 'About Us' section to your website to give your visitors the story of your business and how it was founded for newer customers rather than returning customers.
Distance selling and delivery guidance - FSA
When selling meat, dairy and egg produce online there are particular rules and guidelines to follow from the Food Standards Agency guidelines on distance selling, mail order and delivery. You need to ensure that you've registered with your local council 28 days prior to opening your business for takeaway and delivery.
As a Butcher, selling fresh meat, you'll need to ensure that your produce is delivered in a cooling container that is completely sealed and ensures the high standard of your produce when delivered to a customer.
There are also legal requirements that need to be met when selling food online for takeaway or delivery - you can read this guidance on the Food Standards Agency website.
Uploading your menu
Uploading your produce
So now you have your theme, business information and your site is branded just the way you want, you'll need to upload your products for people to purchase. But in order to upload your products you're going to need to take some pictures of your produce.
Most product photography is done on a clean white background as you can see in the examples below. However if you feel that you don't have the equipment or skill to take photos at the quality you'd like, you can always look for stock photography to use on your site. Sites such as pexels.com or Flickr.com are good places to start looking for stock product photography that matches your products as closely as possible.
Writing your descriptions
You'll also need to write some products descriptions for each of your products. Try to be as descriptive as possible and include as much information about each product as possible. Include things like how it was sourced and manufactured, as well as any allergy information necessary.
Confirm your delivery methods
As Obodo is specifically designed to help businesses deliver to their local area, you'll need to set a radius from your business address which will max out at 15 miles. You can choose from delivery or click and collect, but ensure that whatever option you choose suits your business needs.
Linking your social media
So now that your website is all setup and running you'll need to start linking your social media channels to your website. If you don't already have social media channels set up, then simply navigate to each platform and follow the sign up process. You'll need to add profile pictures (your businesses logo) as well as some header images to get your profiles set up.
You don't need to be a graphic designer to get good looking images for your social media - sites like Canva have lots of templates, shapes and photos to choose from so you can create images for social media just the way you'd like.
You'll also need to include some details about your business such as opening hours, the URL to your new site and a section about your business.
Rerouting your online orders to your website
Now you're all setup with a new online shop for your Butchers businesses and have all your social media connected but now you need to let people know that they can order online with you.
So how do you redirect your foot traffic onto your website traffic? Firstly inform your current local customers that you have moved your operation online and provide them with the website URL for taking online orders. Secondly, have your customers, friends and family spread the word with others in your local community.
Perhaps incentivise customers to order online and offer a small discount on their first purchase and think about adding a loyalty programme to encourage customers to keep coming back to your site to order their produce.
We're so excited to have you join the Obodo family! For in-depth guides and links to our ticketed support team, visit https://help.obodo.shop/support/home.
---
---