How to get your local shop selling online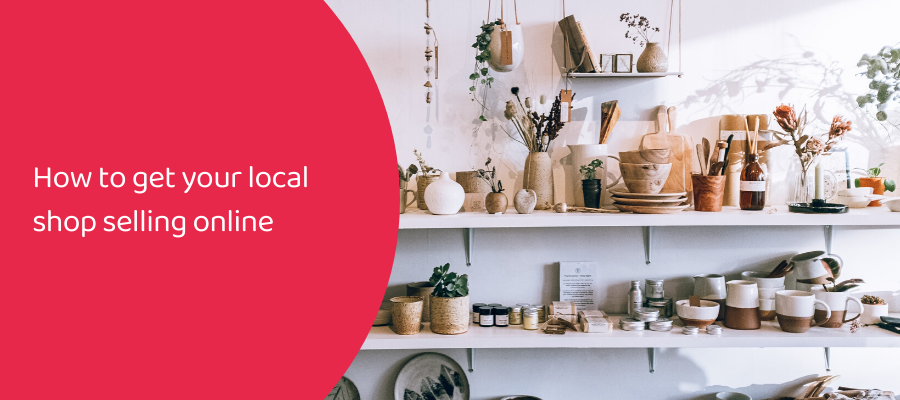 When it comes to selling online, there are lots of different ways to do so. If you're moving your brick and mortar shop products online, in particular to serve your local community, the best and most cost effective way to do this is by setting up your own online shop.
There are a few reasons why this way may benefit your business later down the line rather than selling through an online marketplace such as eBay and Etsy or Just Eat for restaurants for example, but we're going to cover a few ways you can get selling your shop products online.
So why not marketplaces?
While marketplaces may be an easy option when it comes to selling products online, they do have their limitations. Firstly, they usually apply a transaction fee to every sale you make and this can vary depending on the marketplace. Secondly, the traffic you would get to your marketplace profile is driven by the marketplace's search which is a good thing but you end up promoting their brand rather than your own.
You can also only add limited information about your business on marketplaces whereas when you have your own site you can add 'About Us' pages and more information surrounding your returns, refunds, delivery policies and much more. In short, sometimes marketplaces are good for first time sellers but if you're looking to sell to your local community online, then setting up your own online shop is the way to go and allows you to have more control over your branding, messaging and more.
What are the benefits of your own shop?
If you've decided to set up your own online shop and you're looking for a place to start, you can set up your free Obodo shop here.
Setting up your own online shop has many advantages and lots of people all over the world have done just that and had success selling online. One of the main benefits is that you have full control over everything, from as we mentioned earlier, your branding, messaging as well as the look and feel of your online shop.
With Obodo, getting your shop online has no upfront costs so it is quick and easy to get selling to your local customers as soon as possible. You can also choose from a variety of themes that suit the feel of your business whether you're a greengrocer or a butcher, we have themes that will fit perfectly.
You will be able to manage your business from the comfort of your home if you choose and take orders 24/7 to ensure your business has cash coming in. Not only this but you will also be able to set your own hours and communicate this with your customers.
Being online has many benefits and even if you're just selling to your local community, there are other tools that you can use online to reach more people within your area and expand your customer base. From Google Ads to Facebook Remarketing the high volumes of traffic that are online even within your own community will make up for the loss of footfall in your brick and mortar shop.
How to sell to your local community online
Once you've got your online shop set up, how do you get your local customers and community to shop with you online? There are a few ways to do this all while encouraging repeat business.
If you're able, include a small flyer in each purchase for your regular customers to tell them that you're now taking orders online, and to help encourage them to shop online, include an exclusive 10% off their first order.
Once you've collected customer data through your website you can use that information to target similar people within a set radius. This will help you to reach people in your local community that may have never shopped with you before but may consider shopping online with you.
And to help encourage customer loyalty you could offer your 'frequent flyer' customers (customers that buy with your regularly online) more offers and discounts as a way to thank them for shopping online or a loyalty program.
Customer Convenience
Selling your products online also allows you to provide a higher level of customer convenience leaving customers highly satisfied with their purchase. From offering free delivery straight to their home at a time to suit them as well as a range of payment options.
Obodo has partnered with Stripe as your payment solution provider and helps to give your customers a few ways to pay, either via card or via a digital wallet. Making the checkout process quick and simple for customers will help with your conversion rate and provide a high level shopping experience for your customers.
Starting to sell your products online is easier than you may think and there are lots of support guides in our Help Centre to help you get your Obodo online shop set up or support in our Facebook Community.
We're so excited to have you join the Obodo family! For in-depth guides and links to our ticketed support team, visit https://help.obodo.shop/support/home.
---
---