How to get your flower shop online for local delivery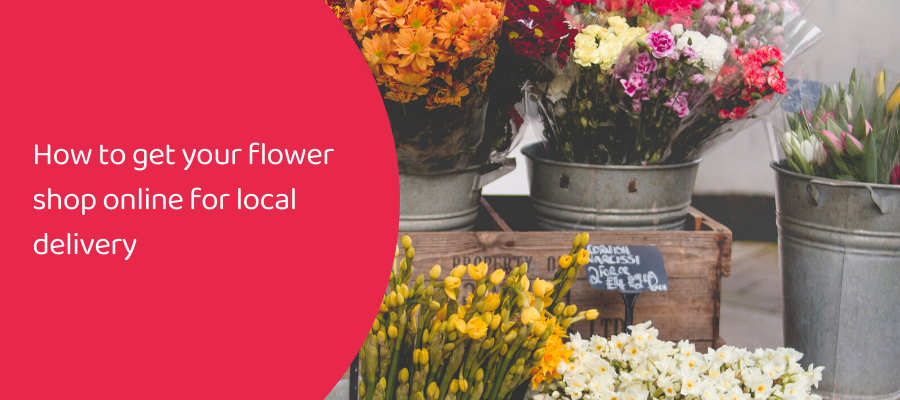 If you're a local florist who offers delivery to customers in your area (or looking to start!), you've come to the right place. Setting up a new website can seem daunting, but you can easily open an Obodo shop with just a few easy steps, allowing you to easily take orders and arrange deliveries in your local area. Read below to find out more.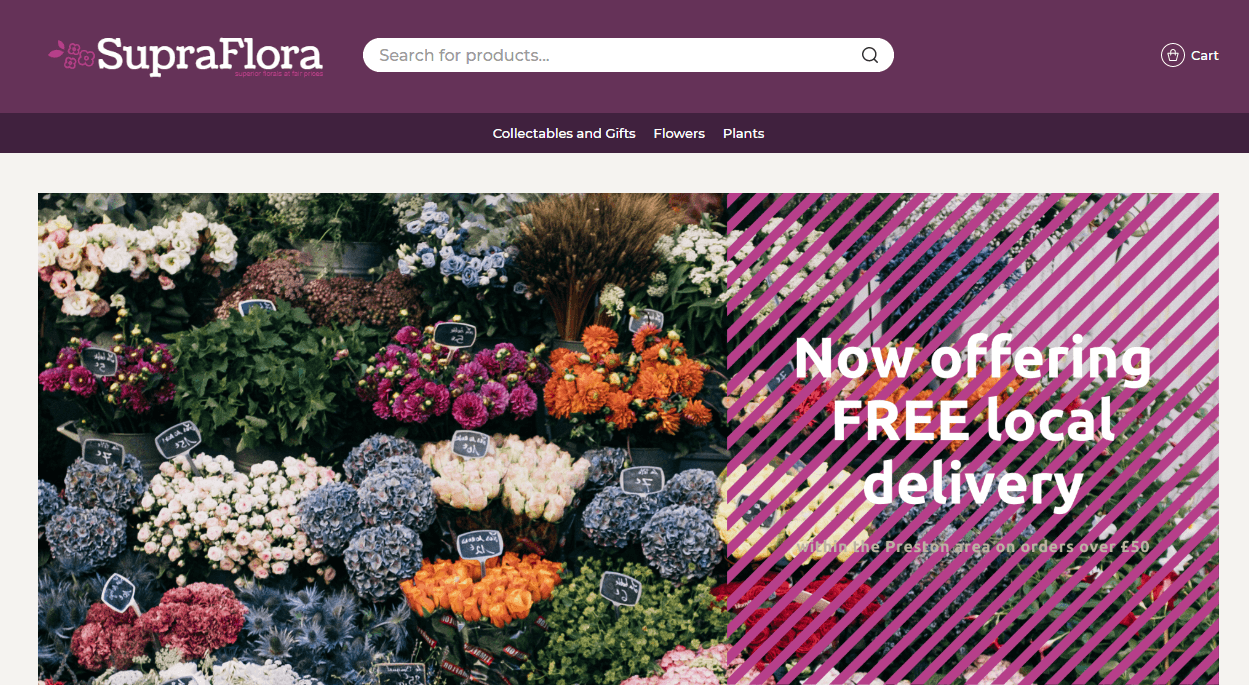 Sign up for your free Obodo shop
To sign up for your online shop you'll just need to head over to obodo.shop and click 'sign up'. While in the sign up process, you will need to provide some basic information about your shop, such as your business name and postcode. Be sure to enter the postcode attached to your store's 'home base'. Your shop's delivery radius will be calculated from that address (more on this later!).
Customising your shop
Choosing a theme
When you sign up for your shop, a basic theme will be chosen for you, but you can further personalise your Obodo shop by selecting a different theme. From there, you can add your own branding, logo, and images. Your theme serves as the structure for your shop.
The Obodo dashboard will prompt you to choose your theme after you've logged in, but you can also find this section by going to the top of the page and choosing the 'Design' tab. If you'd like to choose a new theme, simply choose 'Edit' and then 'Change Theme.' You can also make changes to the colours and other aspects of the existing theme in this section. In the images in this post I am using the 'Baker' theme.
All of Obodo's themes are mobile optimised, meaning that your site looks good and works well on both mobile and desktop. This way, your customers can order from whichever device they choose and still have a good experience.

Uploading or creating your logo
If your business already has a logo, you can easily upload this to your shop, but if you don't you can create one using the Obodo logo builder. This can be found on the 'Design' tab under Theme and then Edit. You can also update your logo from the 'Shop' tab.

Updating your custom web pages (About Us, Hours, Contact, etc.)
You can use custom web pages to create text only pages for your shop. This is where you will want to provide critical information for your customers, like details about your delivery policies, contact information, and business hours. This can be done on the 'Design' tab and then by clicking 'Webpages'.
Choosing a delivery method
Obodo allows you to choose from two delivery methods - local delivery and click & collect. You can choose to use one or the other, or both, depending on what works best for you and your business.
Local delivery allows you to deliver to any address within a maximum of 15 miles from your shop's address. This delivery radius can also be shortened on the delivery settings page if you'd like to keep things closer to home. Delivery addresses will be collected at checkout, and only those customers with a delivery address within your chosen radius will be able to place an order.
Click & collect will allow your customers to place an order without needing to provide a delivery address. Once they have paid, you'll want to send them an email letting them know when their order will be ready for collection. This can easily be done from the 'Orders' section of your account.
Claiming a domain name
A domain name is your website address, which serves to help your customers find you. You will be prompted to set up a domain name from the dashboard of your Obodo account. It is important to make sure that your chosen domain name reflects your business name, as this is how your customers will find you. Domain names can be purchased through Obodo, or if you have already purchased one elsewhere you can apply it to your Obodo shop in the domain name settings page.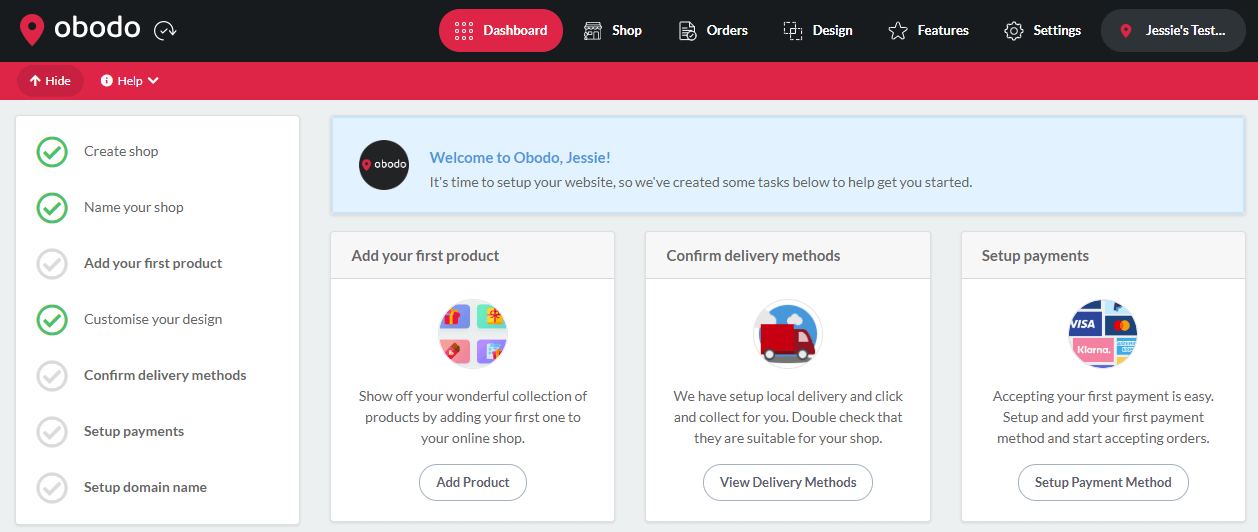 Adding a payment method
Before you can accept any orders, your customers will need a way to pay for their order. You can get this set up by setting up a payment gateway. Your Obodo dashboard will remind you to set this up. Stripe is the payment gateway offered by Obodo. It is one of the most popular and fastest growing online payment gateways. Stripe will allow your business to access card and digital wallet (including ApplePay) payments. Stripe is fully secure and compliant with PCI, PSD2 and Strong Customer Authentication (SCA) regulations.
Uploading your products
Once you've set up the basics it's time to upload your first product(s). Your dashboard will remind you to do this, but you can also add your first product by visiting the 'Shop' tab.
Creating Categories
You'll want to start organising your shop by creating categories to hold your products. For example, if you sell flowers, collectables, and gifts you may want to have a category for each one. Within each category you'll also be able to create subcategories. For example if you made a flowers category, you may further segment it into subcategories for different occasions like birthday, anniversary, get well etc.

Adding a product
After you've created your category, you will want to click into it and add a product. You will give each product a name, description, and price. Remember, your description is your chance to sell the product! Be as descriptive as possible and also add key information like the specific types of flowers in each arrangement and any aftercare tips. If there is any product-specific delivery information it's also a good idea to add this into the description.
Adding product images
You can add up to 20 different images for each product variant (more on this later!). Ideally, you'll want to use images that you've taken of your own products so that your customers can know what they are ordering. If you are just starting out and don't have these images yet, it is ok to use stock photography from websites like Unsplash, Pexels, and Pixabay. You can also filter for images for commercial use on Flickr.
Adding product variants
Some products may come in different variations. Rather than creating separate products for each type, some shop owners make use of the variants feature. To create a product variant, you simply go to the product and visit the variants tab. The 'size' variant, for example, can be used if you have a bouquet of roses that can be delivered in ½ dozen, full dozen, and 2 dozen.
You can also create custom variants for any other options. In the example below I've created the variant 'Add ons' and have given the option to add chocolates and wine to the delivery. A common variant for floral delivery is the option to 'add a note' which can be added with a text box variant. Once you've created your variants you'll be able to customise the prices for each variant option and decide if you'd like to charge more for certain options (like adding chocolates or for personalisation).
Stock control
If you have certain products that are available in limited quantities, you can control this by enabling stock control on the 'Settings' tab of your Obodo account. Once this is turned on you'll be able to specify how many of each item are available. Each time that item is purchased, stock will automatically be deducted.
Connecting your social media channels
If you already use social media sites like Facebook, Instagram, and Twitter you'll want to add these to your new website. Do do this, simply go to the Features tab and open the Social Plugins feature.
Be sure to also add your new website into the description of your social media profiles so that your followers will be able to shop at your new website. But don't stop there! Create a few posts to announce to your followers that you're now offering local delivery. You can even entice them with a special offer to get those orders rolling in.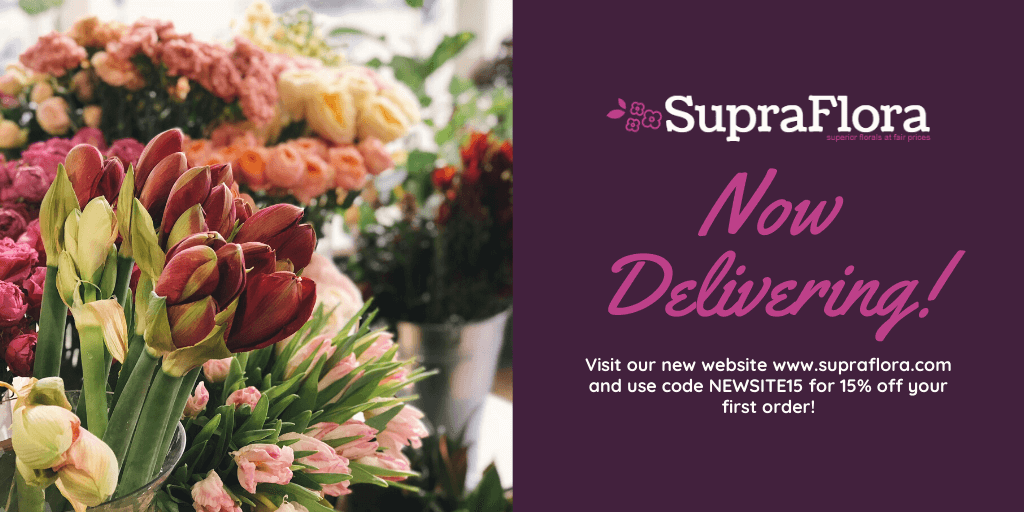 We're so excited to have you join the Obodo family! For in-depth guides and links to our ticketed support team, visit https://help.obodo.shop/support/home.
---
---